Mount Tabor Wesleyan Methodist Church
Turnpike, Newchurch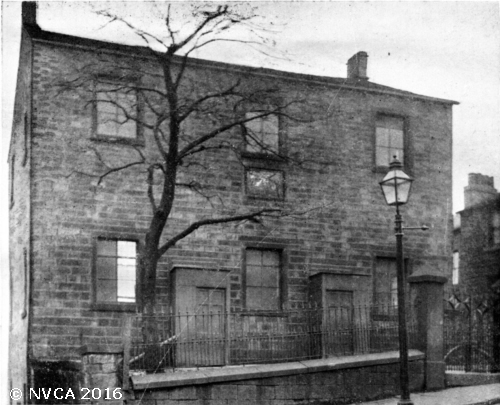 Mount Tabot has its roots in a dispute at Newchurch Methodist Church, when in 1822 it was decieded to stop teaching reading and writing in the Sunday School on a Sunday. Those who wished to carry on with the practice split away and took a room over the house of Dr Law in Old Street before moving to Higher Limes in Turnpike.
They stayed at Higher Limes for eight years before decieding in 1836 to build Mount Tabor on the site that is now St Peter's R. C. Church on the corner of Turnpike and Chapel Street. The church opened for worship in 1837.
The church was originally part of the Rochdale circuit but moved to the Bacup circuit in 1845. The membership of the church was drawn from the surrounding area and from parts of Rawtenstall, and when Trinity Methodist Church was built at Lord Street in 1851 the Rawtenstall members found it more convenient to attend there rather than walk the two miles to Newchurch and this lead to a lessening in the membership at Newchurch.
There were several splits in the congregation which lead to the founding of Salem Methodist Church at Scoutbottom and Bethesda Methodist Church on Bridge Street, Waterfoot.
The last service was held in the church on Sunday 6th October 1878 when the building was put up for sale.
The building was finally sold to Canon Mussley, the parish priest of St James the Less, Rawtenstall in 1891 and was used as a Mission School until 1916.
The building was demolished in 1926/7 to make way for the building of the present St Peter's Church.