News & Events
Current News
Boars Head proposed development The plans for the proposed Boars Head development taking in the car park and the bowling green are in the NVCA documents archive here.
If you wish to register an objection, you can do so by visiting https://publicaccess.rossendale.gov.uk/online-applications/ and entering boars head in the search box. You will need to register with the site to use it, but it is pretty painless.
Forthcoming Events
Kirk Fair - Sept 8th The Kirk Fair will be at Newchurch Methodist church on Saturday Sept 8th. If you can help set up, run, or take down stalls on the day any help would be appreciated. We also need prizes for raffles and tombola etc. and Julia needs bottles for her bottle stall.
Sponsor a lamp post poppy £10 to sponsor a poppy for a lamp post in Newchurch leading down to Tricketts Park. All proceeds to the Royal British Legion. Details are here, and you can get a sponsor form from the Boars Head or download one here. If you're interested, be quick as the closing date for sponsorship is 1st June.
Previous Events and News
Nativity parade starting from St Nicks, Old St at 6:30pm on Monday 18th December. Details
14th December 2017
Proposed Housing Development
NVCA have a map of the proposed housing developments for Rossendale. The new housing sites are in orange. Click the thumbnail below for a full sized map.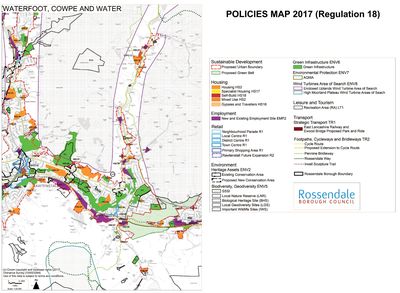 Comments and objections can be made here https://www.smartsurvey.co.uk/s/RBCLocalPlan/ or email forwardplanning@rossendalebc.gov.uk.
31st January 2017
Garden Maintenance
Contractors were on site last Friday (27th Jan) to remove the hedgerow stumps, install a handrail, put up a fence around the dodgy old steps and install the dog poo bag dispenser.
Builder coming in March to do the walling repairs in the lower part of the garden.
23rd November 2016
Next Meeting
Tuesday 21st February 2017 at 7.30pm
21st November 2016
Re-arranged Meeting
23rd November 2016 at 7-00pm
(Please note earlier time)
22nd September 2016
Next Meeting
Tuesday 8th November 2016 at 7.30pm
Meeting Cancelled
15th July 2016
Radical changes to Catholic parishes could affect St Peter's Newchurch.
24th May 2016
Two centuries old Valley church SAVED thanks to community efforts.
18th May 2016
Next Meeting
Thursday 15th September 2016 at 7.30pm – AGM followed by regular meeting at the Boars Head.
Park/Garden tidy up
Thursday 26th May 2016
Prepare for Summer activities and events.
16th February 2016
New Kirk Fair
New Kirk Fair to take place Saturday 9th July to co-inside wth the proposed Beer Festival at the Boars Head.
Queen's birthday
10-12th June – events with the Churches re Queen's birthday and The Boars will be doing something on 11th (Saturday) to celebrate. Keep an eye on the noticeboard for more news